Acqua Pacifica
From NSwiki, the NationStates encyclopedia.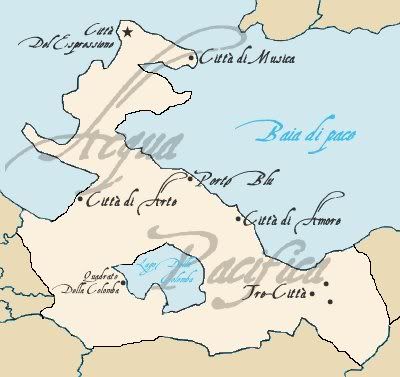 Introduction

Background: The Pacifist-Socialista of Acqua Pacifica, is a quite new nation founded in the late 1950s. It emerged from the ideals of Italian intellectual Jonathan Leone. The citizens embrace their freedoms, and are respectful enough to co-exist without conflict. The name Acqua Pacifica means "peaceful water" in Italian, which is Acqua Pacifica's official language (though English is also natural to most Acqua Pacificans).
The Pacifist-Socialista of Acqua Pacifica is a massive, socially progressive nation, renowned for its devotion to social welfare. Its compassionate, hard-working, intelligent population of 1.047 billion enjoy extensive civil freedoms, particularly in social issues, while business tends to be more regulated.
It is difficult to tell where the omnipresent government stops and the rest of society begins, but it juggles the competing demands of Education, Social Equality, and Social Welfare. The average income tax rate is 100%. The private sector is almost wholly made up of enterprising fourteen-year-old boys selling lemonade on the sidewalk, although the government is looking at stamping this out.
Public footpaths are being slowly eroded by the burgeoning number of ramblers, euthanasia is legal, military spending recently hit a new high, and the government has started a campaign to crack down on road rage and encourage alternate means of commuting. Crime -- especially youth-related -- is a serious problem, probably because of the country's utter lack of prisons. Acqua Pacifica's national animal is the dove, which frolics freely in the nation's many lush forests, and its currency is the lira rossa.
Geography
Location: Alliance of Socialist States

Area: total: 284,135 sq km
land: 234,020 sq km
water: 5,115 sq km

Coastline: 7112 km

Maritime claims: 11nm

Climate: Warm in the summer, otherwise mostly rainy and cold.

Terrain: Mountainous southwest, plains and coastal lowlands.

Elevation extremes: lowest point: Baia di Pace (Bay of Peace) 0 m
highest point: Mont Sabrina 3,784 m

Natural resources: gold, diamonds, sand, marble, mercury

Natural hazards: rare avalanches in the southwest during the winter, rare floods around Lago Della Colombo (Dove Lake), rain storms
People
Population: 83 million (March 2006 est.)

Nationality: noun: Acqua Pacifican(s)
adjective: Acqua Pacificans

Ethnic groups: Italian, Italian-American, American, French minority

Religions: predominately Agnostic, Roman Catholic (esp. in northern Tre-Città), widespread diversity

Languages: Italian (official) and English (official), French (French-speaking minority in southern Tre-Città)

Literacy: definition: age 13 and over can read and write
total population: 99.1%
male: 99%
female: 99.3% (2006 est.)

Government
Country name:
conventional long form: The Most Serene Republic of Acqua Pacifica
conventional short form: Acqua Pacifica
local long form: La maggior parte della Repubblica di Serene di Acqua Pacifica
local short form: Acqua Pacifica

Government type: republic
Capital: Città Del'Espressione
Independence: 14 January 2006
National holiday: Giorno Delle Colombe (Day of Doves) February 15
Constitution: written 1999-2004, published 2005
Legal system: unnecessary
Suffrage: 17 years of age

Executive branch:
head of government: Prime Minister Sebastiano Jonathan Gabriele LEONE III (since 14 January 2006)
cabinet: select intellectuals suggested by Prime Minister
elections: voluntary

Judicial branch:
Unnecessary

Political parties and leaders:
Acqua Pacifican Nationalist Party (Jonathan LEONE)

International organization participation:
United Nations (active member), Alliance of Socialist States (comrade)

Flag description:
Yellow dove and sickle and hammer on a red background
Economy
Overview:
Acqua Pacifica has concentrated it's economy mainly on Social Welfare, although Education and Healthcare are on the agenda: Citizens of the nation select which government department gets their income tax liras each year. The average income tax rate is 38%, but much higher for the wealthy. A small private sector is dominated by the Information Technology industry, however other industries make progress as well. For a still developing nation, Acqua Pacifica's economy has much room to improve.

GDP: $71,452,983,545.47 (2006 est.)
GDP per capita: $4,465.81
Labor force: 23.49 million (2006 est.)
Unemployment rate: 11.69% (2006 est.)
Population below poverty line: N/A

Agriculture - products: vegetables, soybeans, pomegranates, wheat
Industries: information technology, clothing, fine arts, music

Currency (code):
Acqua Pacifican Lira (APL)
Exchange rates: ₤1,594.37 APL = $1 USD

Fiscal year: calendar year
Communications
Telephones - main lines in use: 1.002 billion (2006)
Telephones - mobile cellular: 99.918 million (2006)

Radio broadcast stations:
AM about 189, FM about 9,100, shortwave 8 (2006)
Television broadcast stations: 236 (2006)

Internet country code: .it
Internet hosts: 737,441 (2006)
Internet users: 18.1 million (2006)
Transportation
Airports: 88 (2006 est.)
Heliports: 4 (2006 est.)
Railways: 17,102 km (2006)
Roadways: 487,410 km
Waterways: 2,100 km

Ports and terminals: Porto Blu, Gabriele International Airport

Military
As a pacifist nation, Acqua Pacifica has no military, or any need for a military. If needed, allies will come to the aid of Acqua Pacifica, however, Acqua Pacificans are firm believers that there should be no reason to do so in the first place.
The Alliance of Socialist States

Main articles: Alliance of Socialist States, AOSS QuickInfo
Nation pages: Acqua Pacifica, Arequipena, Audioslavia, Catalatina, Marquish, Moshava, Pushistymistan, Stalinikov
Regional info: , Major airports in the Alliance of Socialist States
Sports-related:
For more information or to see non-listed pages, please see Category:Alliance of Socialist States.