Ellery Camp Pravda
From NSwiki, the NationStates encyclopedia.
Masthead
Catchment
Archives
YOUNG TANAH BURUNG SOCCER HOPEFUL SHIVERS WITH EXCITEMENT
(Picture of young Tanah Burung woman, Canabe Livit, gazing at football star antarcticad. Fellow star oreadest is looking on. Canabe Livit is wearing the antarcticad's trademark haircut from World Cup 5. They are all standing at the base of the mighty mountain grey gum known as PELLOCAR. There is a light smattering of snow about.)
Today Ellery Camp welcomed into its arms the first young person from the Tanah Burung village Findabaya. Canabe Livit has come to Errinundera as part of young footballer exchange program organized by the Head Lady of Findabaya and homevillage heroes, antarcticad and oreadest.
Canabe Livit is clearly excited by the prospect of her stay here and in the intensive training she will receive in the newly established football academy to be run by the eminent former footballer rodm. We asked her what she was looking forward to most. "I hope to learn so much about Errinundrian culture while I am here. The welcoming ceremony under the canopy of PELLOCAR was so moving. I learned today that the name of the tree means "The cup of life". The reverence you have for your trees is amazing. If only the global logging companies in Tanah Burung could show a fraction of your respect." Master of Ceremonies for the occasion, antarcticad, pointed out that the First Creek Falls folk had found the perfect solution: "They trash logging company headquarters with their own equipment." Ellery Camp mayor, washingd, seconded the statement.
We also asked Canabe Livit what her first impressions of Errinundera were. "Firstly, it's so cold," she said. "Everyone warned me how dangerous the bushfires were and, right now, here it is snowing. I've never seen snow before. It's beautiful. I suppose it IS the middle of winter. Do summers really get that dangerous? Secondly, I can't get over how almost everyone lives in the trees. From here I can look over a broad valley and not see a single building or road. Instead there are enormous spreading trees as far as the eyes can see with beautiful skyways curving between them."
The young Tanah Burung star won't be spending all her time kicking balls. The academy has a rigorous academic program that has been approved by the Findabaya Head Lady, Warung Agus. Additionally Canabe Livit will spend periods in other parts of Errinundera, getting to know the people throughout the nation. "Already I'm looking forward to seeing the famous McKillops Bridge and Waratah Flat and Goonmirk Rocks and First Creek Falls. Oh dear, there is so much to do."
But 10 year old bakerd, swinging upside-down from one of PELLOCARP's lofty branches, surely spoke for all Errinundrians when he said, "I hope she can be my friend."
(Close up picture of the upside down smiling head of bakerd with an obviously big drop below him and Canabe Livit – the right way up – laughing with him.)
ZENZA'S PULSE QUICKENS IN ELLERY CAMP
<div" class="plainlinksneverexpand">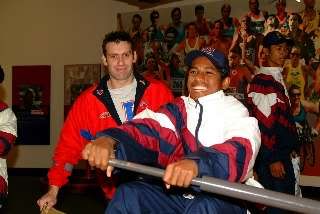 </div>
The latest football exchange student from the Tanah Burung village of Findabaya, Zenza Jenal, is finding Errinundera, in general, and Ellery Camp, in particular, an eye-opening experience. "The guys who came here over the last four years have told me about their experiences but this place is not like I imagined it all. I thought it would be like home: the same forests, the same history and the same politics. How wrong can you be?"
Prompted by these comparisons we asked him to explain. Are the forests so different? "It's like the difference between a mosque, a cathedral and a Hindu or Buddhist temple. They each arouse awe and reverence but experience of one cannot prepare you for the others. I love my native forest more but I am still overwhelmed by what you have here." The best thing about our forest? "You don't have crocodiles." The worst? "The leeches. We have them in Findabaya but our ones are lemurs compared with the orang utangs you have here. I woke up the other morning with a bloated one in my pubes. Fortunately, the young lady in the neigbouring branch heard me shout. She was so nice about removing it."
The budding soccer star is also keen to learn about the history and politics of Errinundera. "As you know, Tanah Burung's history in the last two hundred years or so is mainly about colonisation and our struggle to achieve independence. Your history is about the struggle to overthrow a corrupt monarchy and then a puritanical military dictatorship. Yet the two nations have such similar political outlooks. It's like the forests: so alike yet so different. I'm especially keen to visit McKillops Bridge to see the site where the 1905 revolution began. And then I want to go First Creek Falls where the 1941 liberation campaign had its roots."
<div" class="plainlinksneverexpand">
</div>
But it's not just history and sightseeing that has brought Zenza Jenal to Ellery Camp. "Football is the reason for it all. I met the national squad after the opening ceremony at the Mount Ellery Cavern. sorais is such a cool dude! Imagine getting yellow carded in consecutive matches for making obscene gestures at your own twin sister. Errinundrians don't seem to mind. I guess the Mezitzian referees are a bit more uptight about these sorts of things. Anyway, I'm so looking forward to studying under antarcticad at the Academy and training with him and codith in the Ellery Camp squad. And to think that codith was an exchange student in Tanah Burung. Now she's in the Errinundrian national side. My aim is to follow in the footsteps of Canabe Livit who has become a Crocodile."
14 year old bakerd, swinging upside-down from one of lofty branches of Ellery Camp's sacred tree, PELLOCAR, had his priorities right. "The best thing is that I have a postcard from all the other Tanah Burung footballers who came here. It's ace getting them from so far away."