Immelfar
From NSwiki, the NationStates encyclopedia.
The title given to this article is incorrect due to technical limitations. The correct title is immelfar.
immelfar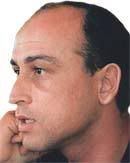 Captain of Bemm River, immelfar has been called the best player in the history of that club. A deadly but erratic striker it seems sometimes he can score at will and create chances with equal aplomb yet at other times immelfar seems so inept that his own fans want to crucify him. Very methodical and exact in his approach to the game which doesn't always seem to help him.
World Cups
Stats include qualifying matches
leighm medal is voted upon by the Errinundrian coaching staff for the Player of the Series
Had his 15 minutes of fame in the match against Kilmarnockshire. Standing in as captain for onito who was being rested, immelfar scored a hat trick as Errinundera demolished the inexperienced visitors 8-nil. This effort was overshadowed by the religious brouhaha that enveloped him in the aftermath of the game (see below). immelfar fractured his skull in a game of street football in the Unified Capitalizt States and missed most of the Cup Proper: STREET FOOTBALL
7 goals (Rugiero, Kilmarnockshire 3, Abu Omar, Bushes Been Quaked, Rugiero)
3 leighm medal votes for his hat trick performance.
Errinundera lost to Ariddia in the final.
<div" class="plainlinksneverexpand">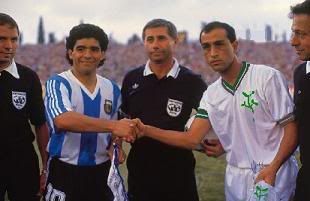 </div>
Religion
In a secular nation where the closest that its citizens come to religion is a reverance for trees, immelfar was notable for his Jewish faith. At a press conference following his hat trick game, immelfar announced that he had converted to Russian Orthodoxy. He topped that announcement by roundly condemning The Archregimancy lifestyle resulting in his anathematisation. Much prostration and many mea culpas were needed to sooth the monks' ruffled habits.
See the following reports on the controversy:
CAPTAIN FOR A DAY And that's not the only surprise
THE ARCHREGIMANCY BRINGS YOU THE POST-MATCH PRESS CONFERENCE
FOOTBALLER PLEADS TO BE DE-ANATHEMATISED